Aquaculture is the fastest-growing food-production sector globally and is vital for feeding our growing population. Manuel Barange, director of fisheries at the Food and Agriculture Organisation, highlighted at the latest World Ocean Summit that aquaculture has already enabled people to increase annual fish consumption from 9kg per person in the 1960s to more than 20kg today.
Building trust and transparency
But there are challenges facing the industry. More than half of consumers do not trust seafood, with one in five of all fish sold mislabelled. A recent World Ocean Initiative webinar discussed the use of blockchain in reducing fraud and unsustainable practices in the seafood supply chain. Moreover, aquaculture can use technology to get ahead of fish disease outbreaks, argues Tony Chen, co-founder and CEO of Manolin, in a recent blog.
I also moderated a recent World Ocean Summit discussion on the prospects of sustainable aquaculture, with Christopher Golden, professor at Harvard T.H. Chan School of Public Health.
Meanwhile, seaweed farming has recently been thrust onto the global agenda given its potential to provide a sustainable crop. Dodon Yamin from MARI Oceans and Paddy Tarbuck from Sea Green examine how to rebalance the Indonesian seaweed industry. 
Join the discussion
Achieving sustainable aquaculture will be the topic of an upcoming World Ocean Summit Insight Hour that I will moderate on August 18th 2021. Register free.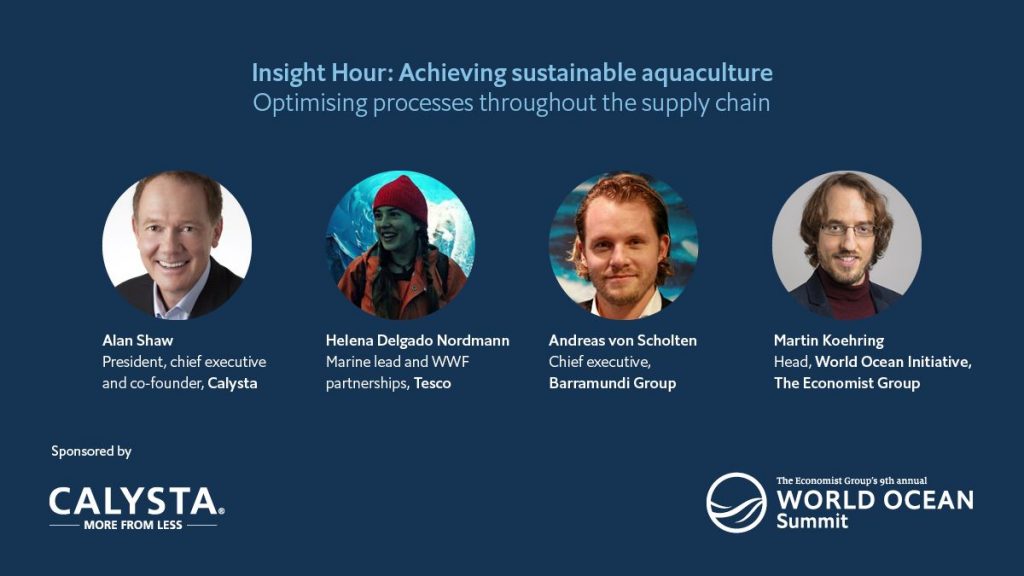 Key talking points:
How can retailers increase their impact on supply chains?
How are aquaculture farmers achieving their sustainability goals as they scale their operations?
What role can feed producers play in delivering sustainable, scalable supply?
How can the aquaculture industry ensure collaboration on key goals throughout the supply chain?
How are technology and innovation helping to make the industry more sustainable?
The World Ocean Summit Asia-Pacific will run as a virtual event on December 6th-10th 2021. Aquaculture will be one of its industry tracks. François Mosnier, financial research analyst at Planet Tracker, will speak at the summit and has contributed a guest blog on the environmental and financial impacts of intensive aquaculture. Access all speaker blogs here.
Sign up to the free World Ocean Initiative newsletter to receive a monthly round-up of articles, videos, infographics and other content from the World Ocean Initiative.
---
More posts on the ocean economy: