After 11 and a half years I have decided to leave The Economist Group to pursue a new exciting adventure. It's been an incredible journey! More about my new destination soon, but now is the time to reminisce about more than a decade at this great media company.

My voyage on ship Economist has been one of evolution and reinvention. I am grateful for the amazing colleagues, managers, mentors and opportunities I've had along the way that enabled me to reinvent myself and adapt to changing business needs and personal interests.

In addition to all the amazing ocean puns that I have picked up over the years, there were three distinct but connected episodes of my journey: EIU country analysis; EIU thought leadership; and World Ocean Initiative/Economist Impact. Read more about my story at The Economist Group below.

The team produced an amazing leaving cover for me which sums it all up really nicely.


Farage and the spectre of "Grexit"

My journey started on November 1st 2011 in the Western Europe country analysis team at The Economist Intelligence Unit run by Charles Jenkins (later merged with the Eastern Europe team). It was at the height of the euro zone debt crisis—the day before, the Greek prime minister had just announced a referendum (later cancelled) on the debt restructuring deal with the EU and IMF. "Grexit" rather than Brexit was the buzzword of the time. As Europe Editor I was immediately thrown into the biggest global economic and political themes of the time. But we kept our heads above the water and produced fantastic analysis that was quoted widely in the media at the time. One of the most memorable moments was my debate with Nigel Farage on Sky News on whether Greece would leave the euro zone. Of course, the fact that Farage didn't win the argument on Grexit didn't mean he wouldn't try his luck with Brexit…
From global health to food sustainability

After covering European political economy at the EIU for two and a half years, I was ready for a sea change. My voyage then took me to the Thought Leadership harbour, run by Denis McCauley and Monica Woodley (and later Irene Mia and Pete Swabey). I initially joined with an intention to pursue my passion for sustainability and energy – but life isn't that straightforward (luckily!). A combination of client demand and my own emerging interest in global health issues meant that I reinvented myself and actually ended up diving deep into healthcare for the next 5 years. One of my highlights was the launch of our Global Access to Healthcare Index. But it was my foray into food sustainability (when working on the Food Sustainability Index from 2017 onwards) that created a bridge to my next move: into the world of sustainability.
An ocean of opportunity

When the new World Ocean Initiative was looking for a head in 2019, I knew that I needed to get on that wave. I am grateful to Charles Goddard (the founder of WOI and the World Ocean Summit) and Irene for putting the trust in me at the time and anchoring my focus. Following the creation of Economist Impact, as part of Jonathan Birdwell's team, my role has since expanded to looking after sustainability, climate change and natural resources more broadly and helping to bring our sustainability coverage to life on The Sustainability Project (which has just won a Webby Award for best writing). It's been great to be part of the ocean and sustainability teams that work seamlessly to build bridges across research and events. From euro zone to global health to sustainability, the reinvention has been complete.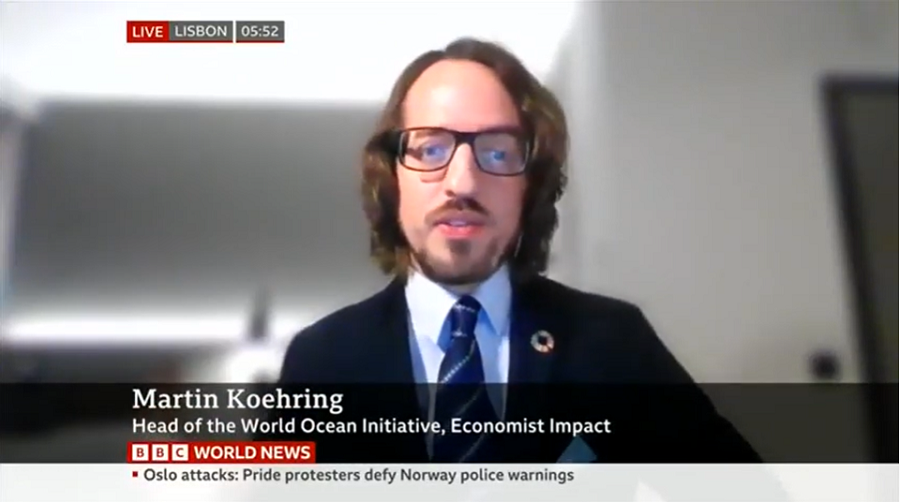 ---
More on sustainability: